Gabrielle Roth's 5Rhythms® workshops
2 Weeks with Jonathan Horan
Mirrors and Naked Soul

July 13th - 17th.: Mirrors
July 20th - 24th: Naked Soul

Participate in one or two workshops
Each 5 Days with Jonathan Horan

What to Bring: A water bottle, a journal, clothes to dance in, maybe a towel. You can dance either barefoot or in dance shoes. Please no street shoes on the dance floor.

Recommended reading: Gabrielle Roth
Maps to Ecstasy & Sweat Your Prayers.
---
---
July 13 - 17, 2022
Mirrors™ (Seeing the Self)
A 5Rhythms® Mirrors Workshop is the unveiling of the battle between the ego and our most soulful self. Mirrors level work is the most advanced and challenging investigation and lives in the domain of the mind. In Mirrors, the challenges become greater as we dive deeper in the ego, dancing with the world of our speaking self.
In Mirrors we receive the tools to identify our ego, thus creating the possibility of making a choice as to which part of us gets to use our mouth, our hands, our heads, our feet, our eyes and ears. We become archeologists and dig through our own ruins, anthropologists who curiously step back and study our own rituals. Together we peel back layers, make muscles pray for mercy, empty out emotions, lay down masks, learn to make fun of our egos and dance til we disappear. And in the process, we realize we have a choice, a way out of the mindless into the mindful.

BEING LOVING KNOWING SEEING HEALING

The Focus: taking responsibility for our actions and reactions.
The Outcome: Knowing who we are and who we are not is a major contribution to a better world.
What to bring:
Please read the Mirrors chapter in maps to ecstasy – and if you have done that already, re-read it
- props for the ego theatre!
- a blanket or something to sit on
- your journal, something to write
- a towel, if you sweat a lot
---
July 20th - 24th
Naked Soul

This is an opportunity for those who want to explore the dynamics of relationship in the luminous mirror of repetition, rhythm and ritual theater. We will cultivate and deepen our ability to see and hear each other as we breakthrough the masks and myths of relationship to face each other with naked souls.

Repetition allows us to throw down our masks, to shatter unspoken contracts that grab us by the throat and diminish us, robbing us of voice and vision. I love this technique; it has changed the way I listen to and see my friends, my lover, my family and even total strangers. Each of us has the power to reach for an embodiment of the spontaneous, instinctive attention to truth that this world so desperately needs. Sharing the tools and techniques that allow us to lovingly take on this commitment is my passion.

So we come together to weave witness and warrior into a vulnerable presence. This is our offering. This is our prayer.
---
---
Price / Payment:

Price for both workshops DKR 6600

For 5 Days Mirrors 3550 Dkr
For 5 Days Naked Soul 3550 Dkr

We offer a 15 % discount of the full price for 5RTA members (Trained 5R-teachers Only ***)

*** We cant offer the discount, if the workshop is part of prereqs for your 5Rhythms teacher training. It wouldnt be fair for people to save workshops for after the Training and then get a discount that others didn't get because they did it on time with their application. Jonathan says that if it's a prerequisite that they did not complete before starting training, then they do not get discount (i.e.: naked soul requirement).
---
Cancellation Policy
If a participant wants to cancel their registration 3-4 weeks before the event, they will recieve a full refund minus a Dkr 500 processing fee.

2 weeks before, they will recieve a full refund minus Dkr 1000. If a participan cancels

1 week before the workshop, they will recieve full refund minus a 50 % processing fee.

Less than a week, their will, their refund is subject to participant replacement. If a replacement is registered, particpant will recieve a full refund minus a 25 % processing fee.

If a particpnat does not show up for the workshop without communication, their registration payment will not be refunded.
---
Prerequisites:
Heartbeat....
We recommend Cycles and or / Medicine Dance

All workshop hours contribute to 5Rhythms® teachers training prerequisites.
---
How to book:
Please send an e-mail with your name, address, phonenumber and a list of 5Rhythms Cycles- or Heartbeat workshops you did to Jan Redsted and I will send you all the information you need!

Email: jan@redsted.dk Tel +45 29 62 29 76
---

Times / schedules:
Mirrors: July 13 - 17, 2022
Wednesday: 11:00 am - 4.30 pm
Thurs: 11.00 am - 6.30 pm
Friday: 11.00 am - 6.30 pm
Saturday: 11.00 am - 6.30 pm
Sunday: 11.00 am - 3 pm
Naked Soul : July 20 - 24, 2022
Wednesday: 11:00 pm - 4.30 pm
Thursday: 11.00 am - 6.30 pm
Friday: 11.00 am - 6.30 pm
Saturday: 11.00 am - 6.30 pm
Sunday: 11.00 am - 3 pm
Venue:
Campus Vejle, Boulevarden 48, 7100 Vejle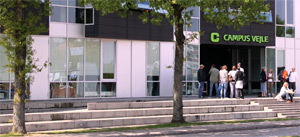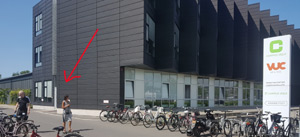 Entrance Left side of the Building
Find it on Google maps here...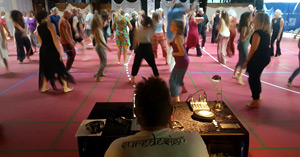 From last time in Vejle with Jonathan
PARKING
You can park for free all days at Campus
---
---

Overnight Accommodation:
Own sleeping bag at the venue
The venue is open to let participants stay overnight for 50 Dkr. pr night. (little less than 7 Euro)

***We would prefer this to be payed in cash during the first days of your stay.

Its very basic with classrooms where you would have to bring sleeping bag and something sleep on like a rolling pad or yogamatt.

There will be a Fridge, but no kitchen only to boil water. Good Showers and toilets.
Its possible to stay at venue from the day before thuesday July 12th. and we have to be out Monday 25th at 10 o'clock.

Write to us if you are interested in this option. jan@redsted.dk
----------------
BB Hotel: This is a cheap solution if you share room with 1 or more people. Last years many were satisfied with this place and its only few min. walk from venue
http://www.bbhotels.dk/ (700 M) See on Maps
We heard of this BB in Vejle center
www.siesta-vejle.dk
15 min walk see : google.dk/maps
------------------------------------------

Hotels few meters from venue
1. www.scandichotels.com (600 M) See on Maps

2. BestWestern (1100 M) See on Maps
3. Vejle Center Hotel (750 M) See on Maps
4. CABINN Vejle (1200 M) See on Maps
------------------------------------------
AirBnB Vejle www.airbnb.dk/s/Vejle
Hostel (5 KM from venue)
http://www.vejle-danhostel.dk/index_eng.html
Appartments in Vejle
Click here...
Private BB in & close to Vejle
http://www.visitvejle.dk/vejle/bed-and-breakfast
Rent a Summerhouse (Car needed)
5 to 20 KM from venue
See more here...
Camping
www.vejlecitycamping.dk (2.8 km from venue)

If you have a car:

faarup-soe.dk-camp.dk 12 km

www.vejlefjordcamping.dk 15 KM from venue

www.hagenstrandcamping.dk 19 KM from venue

www.morkholt.dk 18 km from venue
---
Vejle city
The city itself has a population of a little more than 50.000 which means that everything in the town is in walking distance... se distances below from venue to Hotels, station etc.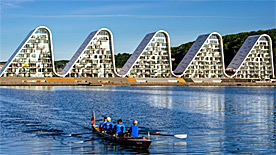 wikipedia.org/wiki/Vejle
www.visitvejle.com/
Buy food lunch break

There is a supermarket just beside venue and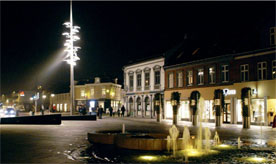 The pedestrian zone is 10 minutes walk from the venue... How to walk...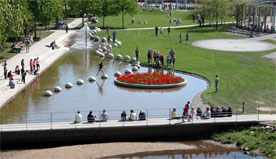 Some chose to spend time in the park between venue and pedestrian zone... Se where
---
Travel/Trains/Airports
Airports:



BillundAirport
(35 min with bus to Vejle)

Buses (Billund - Vejle | Vejle - Billund)
Bus 43 Sydtrafik Click here
Can by tickets in Airport, cost: Dkr. 62
Busses goes to TrafikCenter (15 min walk from venue: See rute here.... )
TAXI Vejle: + 45 70 20 12 22

Copenhagen Airport
About 2 - 3 hours in train



Trainticket from Copenhagen here:
webapp.rejseplanen.dk

How to buy the cheapest ticket:
After you found date and time, click "Tickets" and look for DSB Orange.
From: Copenhagen Airport (CPH Lufthavn)
To: Vejle St.
Walking from Vejle train Station to Venue (15 min)
---

L
aundry in Vejle where you can wash clothes.
Opening hours every day from 7.00 - 21.00
Adress:
Vestergade 26, 7100 Vejle
---

RENT car
:
www.europcar.dk

RENT Bicycle
:
visitvejle.com
---