---
---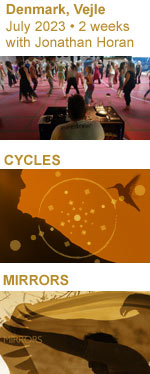 2 weeks with Jonathan Horan
in Vejle, July 2023
July 12. - 16. 2023

Cycles
Exploration of the Rhythms of Life
A way to deeply embody the patterns, waves, and vibrations that organically move us from birth to death.
July 19. - 23. 2023

Mirrors
Seeing the Self
We peel back layers, make muscles pray for mercy, empty out emotions, lay down masks, learn to make fun of our egos and dance til we disappear

Click here for more information...


FB Event Cycles & Mirros:
Click here...
Group for communication with Danish 5Rhythms Community - 5Rhythms DK:
Click here...

Group for sharing and communication with Participants in Jonathans Workshops:
Click here...
---
---
What is your deepest or most profound experience with the 5Rhythms?

The Prosperous Mystery. When we get out of the Way; Life is generously giving...
---------------------------------------
Hvidbjerg 25. - 29. October 2023 - 5 Days intensive
Intensive
Trance & Transformation
The Mystical and Spiritual aspects of the 5Rhythms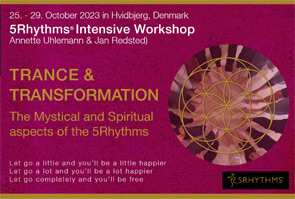 All workshop hours contribute to 5Rhythms® teachers training prerequisites.
Heartbeat (2 days) & Waves (3 days)

With Annette Uhlemann & Jan Redsted
Click here for more information...

Find event on Facebook: Click here...
---
---