Copenhagen 6.-7.oktober 2018

5Rhythms® HEARTBEAT™
"For all my Relations" with Annette Uhlemann

"Dance alone to discover who you are . Dance with others to discover who you are with. Dance in a group to discover your place."
Gabrielle Roth

Grounded in the waves of the 5 Rhythms® this HEARTBEAT™ calls to the dance of relationship to oneself, a partner and a group. A moving meditation while witnessing oneself with attention and awareness.

Meeting the world from Center
Can we stay in center and true to ourselves while meeting our colleagues, partner, friend, child, mother……or do we lose ourselves our flow - contact to body and heart?

Following Gabrielle´s Heartbeat map we will explore the movement of our basic instinctive feelings:

FEAR, that protects us,
ANGER that defends us,
SADNESS that releases us,
JOY that uplifts us and
COMPASSION that united us.

Old scars as symbols of wisdom and healing
On this journey we will invite our emotions as energy, as power, as part of being human. Old emotions that have been locked in our limbs or caged in our chest begin to shake loose. We explore and transform inner constructs, beginning to see our old scars as symbols of wisdom and healing. It is more about moving energy than contents of personal history.
Letting the stream of consciousness talking from our feet and feel your heart

After awakening the center and natural fluidity of the body in FLOWING, STACCATO is relating and expressing oneself by being focused, direct, clear and heartfelt. In the territory of STACCATO we examine connecting us to others by daring to see and be seen, feeling boundaries and drawing lines - to love and be loved. Ending up by letting go in CHAOS and finding ones place in the group, surrendering to unity in LYRICAL and offering our being in STILLNESS - remembering our ancient roots.

---


COPENHAGEN
6. - 7. October 2018

Times
Saturday 11.00 - 18.00
Sunday 11.00 - 18.00

Venue
København Karateskole
Bernhard Bangs Allé 27
2000 Frederiksberg

Price 1600 dkr.
1400 kr. if payed 14 days earlier.

Prequisites beginners are welcome
but are recommended to have at least 9
hours of instructed 5Rhythms® practise

Booking & info
Annette Uhlemann +45 31239313
Write an email Name, adress & phone to
annette@uhlemann.dk

Information:
WWW.UHLEMANN.DK
---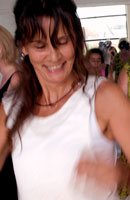 Annette Uhlemann

Certified 5Rhythms® Waves- & Heartbeat teacher and 5RTA member. She worked individual with massage therapy, bodywork and as a movement teacher in schools, hospitals, educations and trainings the last 25 years. The last 12 years she worked with the 5Rhythms® in the healthcare system as a regular part of the rehabilitation programs for cancer patients and scientific research projects.
---
København /Copenhagen
København Karateklub
Bernhard Bangs Alle 27, 1. sal
2000 Frederiksberg Se hvor her...
Nearest Metro (Lindevang St. - 400 M from venue) Click here...


---
"To love the body and respect the heart
is meant to be instinctive.

It's meant to pass from generation to generation, and this has not happened
in the western world.

Somebody's got to jump off the wheel,
and that would be us."

Gabrielle Roth
---

Facebook:
www.facebook.com/events/540626506393320/